Denon AVR-X3000v is a receiver AV surround 3-D 7.1 channels, and you never fail with discrete amplification, identical quality and power for all 7 channels.
That receiver has a power RMS 7 x 150W (6 Ohms at 1kHz) and a variety of playback options via network and includes: AirPlay, DLNA 1.5, compatible Windows 8, Internet Radio, Spotify and Last.FM applications (Available on subscription and by country), Photo streaming, Flicr, FLAC-HD (192kHz/24-bit,) High-res audio streaming, Gapless Playback (playback without interruptions) for WAV and FLAC.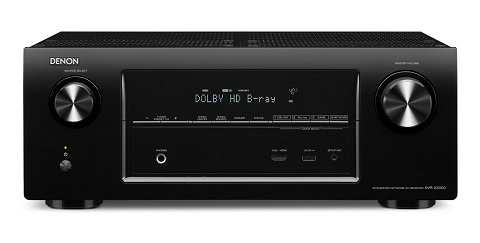 If you want to use in multiple rooms you have Pre-out for Zone 2, 2 x Zone for two different or two different rooms, A + B speaker outputs that can be assigned as a function of bi-amping, 4K video support to enjoy video quality 4x higher than current HD larger screens.
Other features:
    Assist Setup menu enhanced with easy to follow graphical instructions
     Audio preset to optimize bass in configurations without subwoofer
     7 (1 x front) x HDMI inputs with 3D, 4K Support CEC and ARC, and 1 x HDMI output
     New design of the front panel with two buttons for source selection and volume
     HD audio sound through Dolby TrueHD, Dolby Pro Logic IIz and DTS-HD
     1080p and 3D Pass Through
     Audio and video circuits with short distances between components for a clean signal
     Converters D / A channels 192kHz/24-bit all
     Audyssey DynamicEQ ensure quality surround effects even when listening at low volume
     Compressed Audio Restorer improves the playback of compressed audio files (MP3, WMA, etc.).
     pure Direct
     Denon Remote App for iOS and Android (available in AppStore)
     Audyseey Dynamic Volume, for real-time volume adjustment
     Quick Select button to select favorite sources
     Display with large characters
     the sleep timer (timer)
     Intuitive remote
     HDMI standby through Passt
     auto standby and low power consumption in stand-by 0.1W
     storing audio input level and can adjust to different signal sources
     entries:
     7 (1 x front) x HDMI
     2 x composite video
     1 x component
     4 x analog audio
     2 x Digital Optical
     1 x USB (iPod / iPhone, memory stick)
     1 x network (IP-control/update)
     outputs:
     1 x HDMI
     1 x Pre-out (subwoofer)
     1 x analogue (Zone 2)
     included remote control RC-11813
     consumption 500W
     Dimensions (W x D x H): 434 x 167 x 330 mm
     weight: 9.5 kg