As you know  hugely popular standard Soundblox BEF, the next pass of  evolution is Soundblox Pro Bass Envelope Filter.
With a series of new features like 22 different envelope filter effects to choose from including Single Peak, Triple Peak, Peak/Notch variations, 2 Pole and 4 Pole Low Pass variations,  as well as Phaser settings. But, each of these settings can be at its turn modified with a variety of control options including sweep range, positive/negative filter sweeps,   frequency range selection or attack and decay speed settings.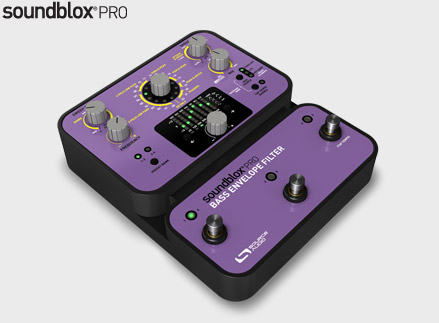 This Pro version, offer option to choose from 4 different modulation sources including standard envelope filter sweeps, a passive expression pedal, selectable LFO wave forms and the Hot Hand motion sensing ring. A passive expression pedal input can be used to control filter modulation like in a standard pedal or a with a variety of parameters including effect selection, sweep range, LFO speed and more. Like in other Pro Series pedals, the BEF Pro features 3 footswitches to hold 6 customizable presets but also has an option for Tap Tempo LFO on 1 of the footswitches.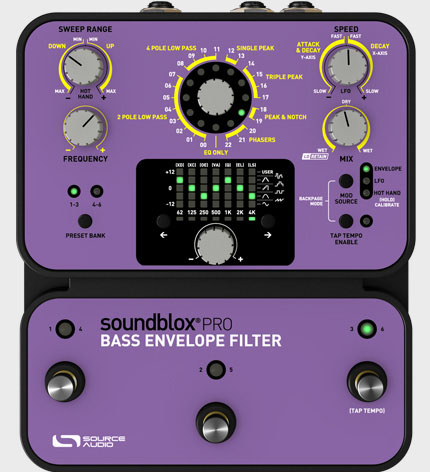 List of  Features & Specifications:
 22 Filter Sounds with Single Peak, Triple Peak, Peak & Notch, 2 Pole Low Pass, 4 Pole Low Pass, and Phasers.
 Negative and  Positive  filter sweep with sensitivity and variable range.
 Signature low-end preserving algorithm 'Lo-Retain™' from Wet/Dry Mix
 4 modulation sources including LFO, envelope, expression pedal and Hot Hand.
 LFO with Tap tempo speed control.
 State-of-the-art DSP — Our proprietary 56-bit Digitial Signal Processor, the SA601, and crystal clear 24-bit converters.
 6 user presets — Easy to configure user presets in two banks selectable via 3 footswitches for quick access of your favorite sounds.
 7-Band Equalizer — Ultra precise 7-band equalizer for in-depth tone control saved per preset.
 Extended Control — An expression input allows for control of a wide variety of pedal parameters. 1 MIDI input also allows external access to presets and parameters.
 Motion Control — All Soundblox and Soundblox Pro pedals are 'Hot Hand Ready®' and can be used with any Hot Hand motion sensor to extend the capabilities of the unit.
Active Analog Bypass — Bypass is fully routed around the DSP and active input ensure zero signal degradation.
9V DC power supply included.
Dimensions: 7 in./17.8 cm (length not including I/O jacks) x 6 in./15.25 cm (width) x 2 in./5 cm (height, including knobs).
Woofer and Bass Test - Soundblox® Pro Bass Envelope Filter