From Yamaha we meet one of powerful and vibrant bass with speakers form series . This speakers was developed with sophisticated design and powerful sound.
The speakers MSR800W is the ideal way to extend the low end and sonic impact into existing speakers systems to deliver enhanced low-end in any live-sound application.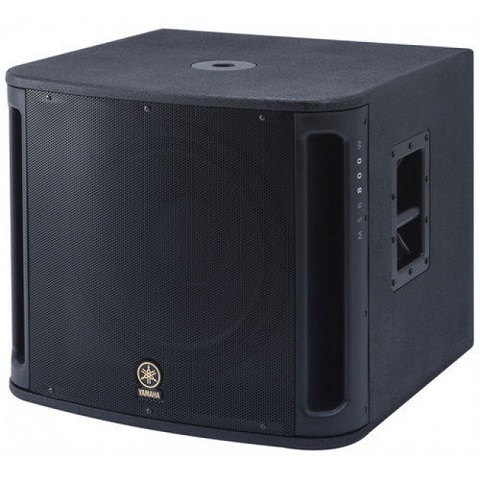 Some Features:
As the name implies MSR800W is capable up to 800 Watts from a 15-inch Woofer in a Bass Reflex Enclosure. The bass reflex enclosure from him has a 15-inch woofer and powerful built-in amplifier the MSR800W delivers up to 800 watts of power (and 500 watts continuous).  We can feel these are thunderous lows and delivering the bass impact we need for dance music or live concerts.
Like we see, the rear panel offers Thru and Bypass outputs and that can be used to connect the MSR800W with other speakers in a variety of configurations. And if our mixer does not have a dedicated subwoofer output, then the Bypass output makes it easy to construct with a high-performance subwoofer system.
The MSR800W has a 80 to 100 Hz High-pass Filter and it provides excellent coverage of the ultra-low range frequency range of 40 to 120 Hz and that's essentials for order kick drum and bass sounds. If we try to adjust the upper roll-off of the frequency range reproduced by the subwoofer from 80 to 100 Hz, that is possible with a steep 18 dB/octave high-cut filter, and its ideal matching with our source and the style of music we're reproducing.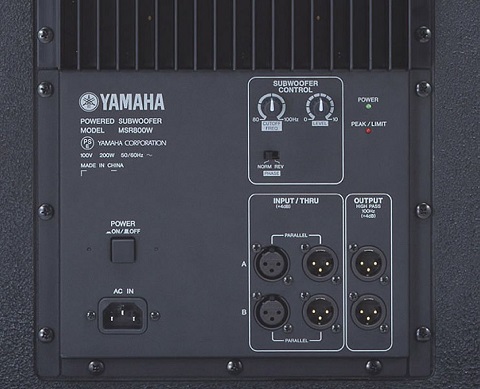 We have option to see a peak LED for visual level monitoring and green LED is lights when the power is normal turned on, there's a peak LED that lights red when an input overload occurs. That is a visual support indication of excessive input, allowing we to adjust the input level appropriately.