New Flagship Model from Onkyo is TX-NR5010 a 9.2-Channel Network A/V Receiver .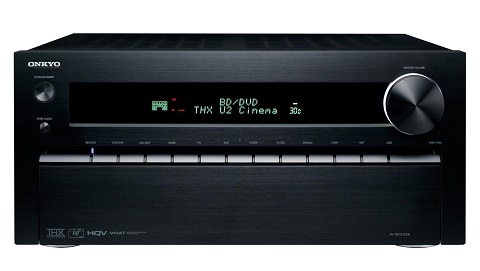 TX-NR5010 has a professional design with thick anti-resonant exterior panels. In interior we find a massive toroidal transformer—assisted by separate transformers for audio and video processing—to power the Three-Stage Inverted Darlington Circuitry and both are essential to obtain THX ® Ultra2 Plus certification. Some vital details such as the premium 192 kHz/32-bit DACs, differential DAC mode, gold-plated speaker posts and terminals, the Audyssey MultEQ® XT32 and DTS Neo:X™ systems will not escape to the connoisseurs.
Part of video processing is incomparably good, with technology from Qdeo™, HQV®, and ISF upscaling video sources to 4K. TX-NR5010 has HDMI® support for two displays, 11.4-channel pre-outs, powered audio in three zones, and all things have remote apps and HDMI-enabled GUI. A total of 11 HDMI ports (including MHL™ for smartphone), ample legacy connections and DLNA, allow that media to be played with accuracy and power.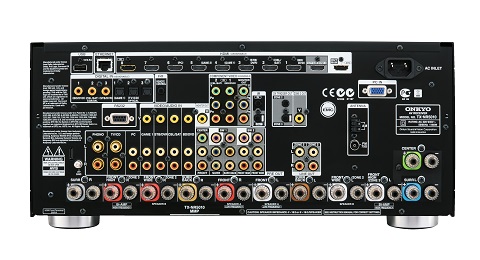 Advanced Features
THX Ultra2 Plus Certified
Massive Toroidal Transformer and Two Separate Transformers for Audio and Video Processing
Anti-Vibration Construction with Separate Aluminum Side Panels
VLSC (Vector Linear Shaping Circuitry)
High-Quality HQV Vida VHD1900 Video Processor
HDMI Video Upscaling to 4K with Qdeo Technology by Marvell
ISF (Imaging Science Foundation) Video Calibration for Optimal Video Performance
DTS Neo:X, Audyssey DSX, and Dolby Pro Logic IIz for Expanded Surround Channels
Input Source Preview with InstaPrevue Technology
Audyssey MultEQ XT32 for Room Acoustic Correction
Internet Radio and Cloud Music Streaming Service Connectivity (Last.fm, MP3tunes, Spotify, AUPEO!, Simfy, vTuner)
Supports Onkyo Remote Apps for iPod touch/iPhone and Android Phone
Zone 2 HDMI Output for HD Video in a Second Room
Digital Crossover Processing Network to Cancel Crossover Interference
Gold-Plated, Machined Solid Brass, 19 mm-Pitch Audio Inputs (TV/CD and Phono)
Gold-Plated Speaker Posts and A/V Terminals
Gold-Plated HDMI Terminals (2 Inputs and 1 Output Only)
Amplifier Features
220 W/Ch (6 Ω, 1 kHz, 1% THD, 1 Channel Driven, IEC);280 W/Ch (6 Ω, 1 kHz, 1 Channel Driven, JEITA)
Isolated Power-Amp and Pre-Amp Block
WRAT (Wide Range Amplifier Technology)
Three-Stage Inverted Darlington Circuitry
H.C.P.S. (High Current Power Supply) Massive High Power Transformer
Discrete Output Stage Circuitry
Optimum Gain Volume Circuitry
PLL (Phase Locked Loop) Jitter-Cleaning Circuit Technology
Bi-Amping Capability
Processing Features
HDMI Support for 3D, Audio Return Channel, DeepColor, x.v.Color, LipSync, Dolby TrueHD, DTS-HD Master Audio, DVD-Audio, Super Audio CD, Multichannel PCM, and CEC
7 x TI Burr-Brown 192 kHz/32-Bit DACs
Differential DAC Mode for Front Channels
Advanced 32-Bit Processing DSP Chip
4 DSP Modes for Gaming: Rock, Sports, Action, and RPG
Advanced Music Optimizer for Compressed Digital Music Files
Connection Features
9 HDMI Inputs (1 Front/8 Rear) and 2 Outputs
MHL (Mobile High-Definition Link) for Smart Phone Content on HDTV
2 USB Ports (1 Front/1 Rear)
Direct Digital Connection of iPod/iPhone via Front-Panel USB Port
Compatible with Optional UWF-1 Wireless LAN Adapter and UBT-1 Bluetooth USB Adapter
Playback of Audio Files Through Local Network (MP3, WMA, WMA Lossless, FLAC, WAV, Ogg Vorbis, AAC, Apple Lossless, DSD, LPCM)
2 Component Video Inputs and 1 Output
5 Composite Video Inputs and 1 Output
7 Digital Audio Inputs (4 Optical and 3 Coaxial)
7 Analog Audio Inputs and 1 Phono Input
Powered Zone 2/3 and Zone 2/3 Line-Outs for Distributed Audio Playback in Multiple Rooms
11.4 Multichannel Pre-Outs
Zone 2 Video Output (Composite)
Analog RGB Video Input (D-sub, 15 pin) for PC
RS-232 Port, IR Input/Output, and 12 V Trigger Outs (Zone 2/3)
Other Features
Audyssey Dynamic EQ and Audyssey Dynamic Volume
Dolby Volume for Reference-Quality Listening at Any Volume
Overlaid On-Screen Display (OSD) with Quick Set-Up and Home Menu
Hybrid Standby to Reduce Power Consumption
Independent Crossover Adjustment for Each Channel (40/45/50/55/60/70/80/90/100/110/120/130/150/200 Hz)
A/V Sync Control (Up to 800 ms at 48 kHz)
Tone Control (Bass/Treble) for All Channels (except Zone 2/3)
RDS (PS/RT/PTY/TP) (European Model only)
Bi-Directional, Preprogrammed, and Customizable